I recently spent a couple of days visiting some of our clients down around the Canterbury region. As is usual for this time of year the lodgings I usually opt for were booked out by overseas visitors, so I decided to choose a place to stay on Air BnB. The day I left I was asked, by the app, to rate various aspects of my stay, which I duly did. I mean, you don't have to, but then the app won't reveal what the property's owners have to stay about you, about how pleasant, clean, tidy, quiet etc you were/weren't, and I for one find it hard to care less about that kind of feedback (it was positive, thanks for having me guys…)
I then dropped off the hire car at the airport and, upon settling into my seat on the plane, had a quick check of emails to find one from the car rental company asking me to rate their service. This time I didn't bother as there wasn't anything in it for me (and the attendant was giving me evils for not paying attention to the flight safety video). Arriving in Auckland I made use of the airport's bathroom facilities and was proferred a range of emoji-face buttons ranging from anger to delight to convey my feelings about my recent experience of their toilet block (again, didn't bother….germs).
Then last week I sat down with my wife to look into booking a winter escape for the family later on this year. The ratings and reviews of TripAdvisor played a significant part in our decision-making process. Every time I hop off an e-scooter, or close the passenger door of a ride-share, I am pinged a request for a rating. I even got asked to rate the service received when ordering some contact lenses online recently.
It is abundantly clear that rating requests have become an indelible and unavoidable part of our lives as consumers of goods and services. However, there is also some growing disquiet about the negative effects this shift can have upon gig economy services, not least of which how rating systems can be vehicles to promote discrimination and racial bias. It's clear these things have to be treated with care and respect.
JOYN Recruiter Ratings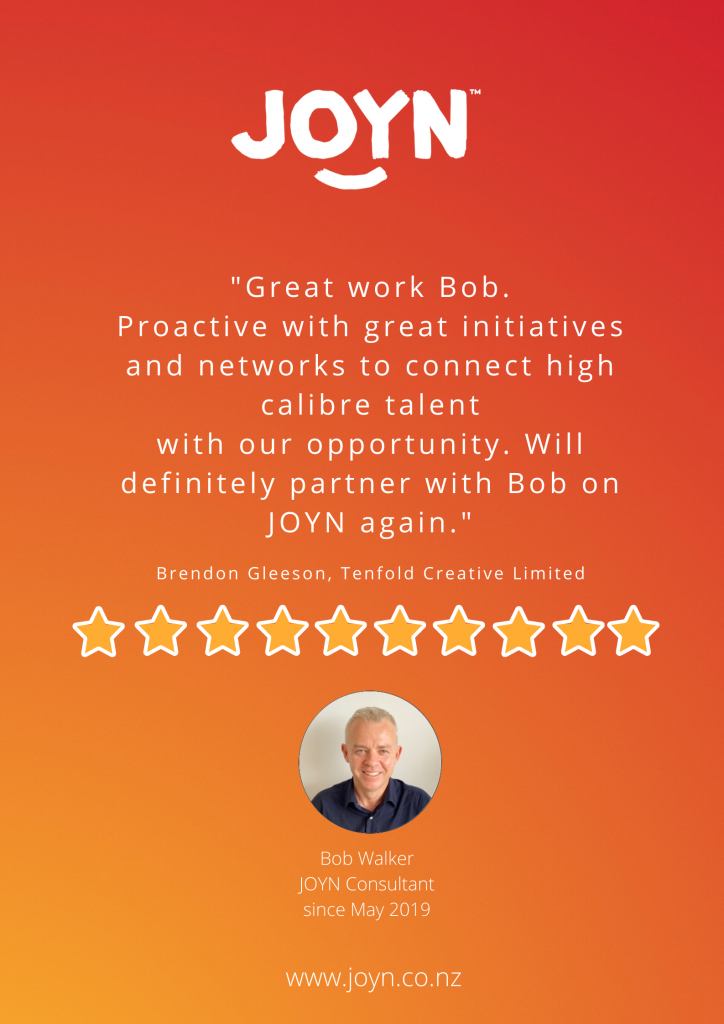 At JOYN we introduced our ratings system as a core part of our model upon launch in 2017. When Uber launched in New Zealand, it had a profound effect on me and I marveled at the concept, especially the ratings system. This new sharing economy trailblazer was a key inspiration for our virtualRPO business (the predecessor to JOYN) and back in our slightly more analogue days, where we cobbled together various systems and software rather than developing our own as we do now, we used the NPS system AskNicely to handle the ratings side of things for us. In fact we had them speak at an event we hosted for the recruitment industry back in 2015 to try and encourage more recruiters to seek feedback from their candidates on their recruitment service.
Some recruitment firms took this on, many others didn't. In an industry notorious for operating behind "smoke and mirrors", plagued by negative candidate feedback and frequent client disgruntlement, we wanted the transparency of JOYN's rating system to be one of the key differentiators in our new model we were developing in the market here. So this is how we have chosen to adopt this ratings phenomenon within our own offering at JOYN:
Every time a JOYN Consultant closes out an Assignment the client (usually the timesheet approver) is sent an email asking them to rate the Consultant on a score of 1 to 10.
The incentive for doing this (beyond being kind enough to take the time to provide feedback), is that giving a rating then gives the client access to a bespoke report generated by the system, and added to by the Consultant, revealing both numerical and written outcomes of the project. Think of it like the email you get showing you the time, the route, and the cost of your ride share, with some added comments from the driver on top.
The Consultant is automatically notified of any rating scoring 8 or higher. Anything lower would lead to a verbal debrief and used as a training and development tool.
Consultants can see their average rating via their JOYN dashboard and this is also visible to anyone searching Consultant profiles on our website, and included on Consultant profiles that we send to new clients as part of proposals.
Our company-wide average (currently at 9.14 at time of writing) is also visible on the home page of our website and updated in real time as new ratings get added.
JOYN is a totally new approach to recruitment and we realise the "leap of faith" many of our new clients must take when coming on board with us. Our hope is that the transparency and visibility of feedback from previous clients can lend some comfort and reassurance to the decision-making process when choosing a recruitment provider.
We're also on a mission to remove the smoke and mirrors many in recruitment hide behind, whilst providing an extra level of service beyond simply putting a bum on a seat. We hope that adopting this gig economy style rating does more than just hold our Consultants accountable to providing an excellent level of service, but also assures our clients that JOYN is a service you can trust.
Having now completed over 2,200 Assignments through the JOYN model, we have received a lot of feedback along the way, but as we grow and evolve the offering, I will remain ever hungry for more. Keep the comments coming guys!