So here we are then. One active case of Covid-19 left in the whole of New Zealand, and surely only the weekend separates us from a move to "Alert Level 1" on Monday.
We should be relieved, proud, joyous even. Here in New Zealand we have done what everyone else in the world was supposed to do. The only problem is, we were the only ones who actually did it. No one told us compliant and law-abiding Kiwis that the rest of the world no longer pays any attention to their truth-shy leaders.
So rather than bouncing back out into our sparkly-clean post-Covid world, we are sitting paralysed, a country of small business owners and consumers plunging the economy into a deep freeze as we sit fearing our jobs going, fearing our bank accounts draining, fearing a return to life as we knew it.
The way out is clear, we need to be bold, be courageous, start taking a few punts again, and start spending some money again. The economic slowdown has badly impacted both of my staffing businesses and, whilst I'm appreciative of our Socialist Government's support, it doesn't sit easy with me. I'm used to working hard to make money, and I'm ready to start working hard again. The sooner the better, please.
I can sense a sluggish, almost reluctant, return to normal out on the mean streets of Auckland. The bus is getting a little bit busier. The traffic seems to be getting a bit heavier. My inbox is creeping up. My phone even rang a few times this week. But it's a recovery moving at glacial speed, really.
We need to look to Australia, I'm afraid. Not for the much-vaunted trans-Tasman bubble (although that will help). But for their determination, their intent, and their courage around spending again, to get things moving again. Pre-Covid my businesses made 95% of its' revenues from the New Zealand market, with some bits and pieces in Australia on top. Over the past 3 weeks more than 50% of the work coming back in is from Australian based businesses.
I'm obviously a tiny sample size to be able to suggest a trend, but this LinkedIn post from my industry colleague and recruitment commentator Ross Clennett shows some broader data sizes to back this up: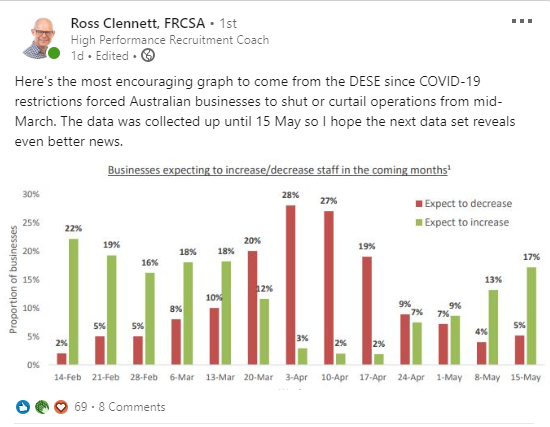 Would we see the same trend, if Stats NZ or MBIE were to produce results of a similar survey? I very much doubt it, certainly not from what I and other recruitment and staffing businesses are saying out there.
Things will come back around again, they always do, but I do wish us Kiwis would get back to getting on with things like our mates over in Australia appear to be doing. We've done a great job of getting to where we are right now, but now it's time for business to start gearing back up again.
Less navel-gazing, more star-gazing. Let's go, people.