Recruiters are often the canaries in the coalmine when it comes to economic outlook and business confidence. The conversations we have around staff recruitment on a daily basis help us form a picture of hiring intent and candidate behaviour that paints a picture long before GDP figures and Unemployment trends are announced by Government.
Of course, this works both ways. We can sense when a slowdown is approaching, but on the flip side we can feel it in our bones when things are picking back up again, and that is the direction we are most certainly heading back in now.
Goin' Up: The Trajectory of Staff Recruitment
With the election done and dusted, businesses can re-focus on rebuilding and growing again. From what we're seeing here at JOYN, many of our clients are getting back into that growth mindset again now. But with the borders still closed, importing talent for hard-to-fill roles is no longer an option, except for those taking advantage of the brain gain of Kiwis returning home.
Competition for good talent is also hotting up with online job ads continuing to increase and jobseekers having more opportunities to choose from again. Recent data released by SEEK and Trade Me Jobs show the same trends across both platforms, with Auckland the only blip due to the second lockdown in August.
Trade Me looked closely at the third quarter and stated it was encouraging to see that listings dipped just 10 per cent in September when compared to the year prior – a far cry from the drops seen in May, when listings were down 52 per cent, and April when listings fell 72 per cent.
"Nationwide, the quarter was much better than many forecasted, with job listing growth improving incrementally over the three months. After a particularly strong September, many employers and job hunters will be feeling particularly optimistic about the coming months after what has been a very rocky year."

Matt Tolich, Head of Jobs, Trade Me
SEEK's year-on-year stats show how far we're still behind the hiring activity of 2019, but the general trends are all heading in the right direction, particularly in the regional areas of NZ: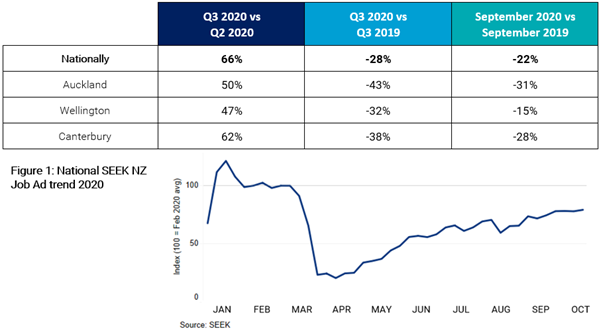 Should you start hiring now?
The recruitment process has gotten much tougher than many had projected. Earlier this week we canvassed our JOYN Consultant community about what impact they are sensing the ending of the wage subsidy period has had. Remember the scaremongering around that? How unemployment would rocket, top candidates would be left stranded, and hiring managers would bolt their doors against a tide of unemployed prospects??
Well, it hasn't happened. In fact, not only are we getting more roles to recruit again (back to Feb/March levels) but it is getting increasingly difficult to unearth the real top talent again.
If you are sensing a buoyancy returning to your particular industry sector, and thinking that 2021 might be the time to start hiring staff again, then let me tell you that the time to start exploring recruitment is right now.
Talk to JOYN about your business needs, from HR support to staff recruitment.
At JOYN we have retained all of our top quality, experienced, recruitment and HR advisors and specialists, plus we are adding to our own talent pool weekly. If you'd like to experience the JOYN magic for yourselves and have us assist you with your growth plans for 2021, we look forward to hearing from you.