Recent press releases from online job board providers SEEK and Trade Me Jobs both paint a similar picture of what is currently happening in the New Zealand employment market. Data points to continued reasons for cautious optimism, both for Kiwi households and for business owners undertaking recruitment in Auckland as 2021 gets underway.
GDP data released by Stats NZ at the end of last year revealed that our economy rebounded by a record 14% in Q3 after the lockdown-induced contraction of -11% in Q2, with Manufacturing and Services sectors doing a lot of the heavy lifting:

On a more micro level our own data here at JOYN shows the impact of COVID on business confidence and hiring intent over 2020 and also, as we have many Auckland-based clients, the effects of the second local lockdown in August and September:

The increase in the number of Assignments completed by our JOYN Consultants as the last Quarter progressed shows the ongoing recovery gathering pace and is closely mirrored by much of the data coming from the job boards. From human resources jobs to recruitment consultants, all areas have been observing a consistent upswing:
A Positive End to 2020
SEEK data shows job listings in Oct-Dec Quarter rose a massive 19% compared to the Quarter before. Even compared to the same period in 2019, the volumes were only 7% lower, an achievement lauded by SEEK's New Zealand GM Janet Faulding;
"The end to 2020 saw continued growth throughout the country, with almost all regions experiencing a substantial lift in new job ads posted to seek.co.nz compared to the previous quarter. In Q4, Auckland rose 24%, Wellington increased 20% and Canterbury was up 17%. Despite such a unique and challenging year for the labour market it is really encouraging to end quarter 4 2020 just 7% lower than in 2019. It is a real testament to the resilience and hard work of so many New Zealanders to end the year positively."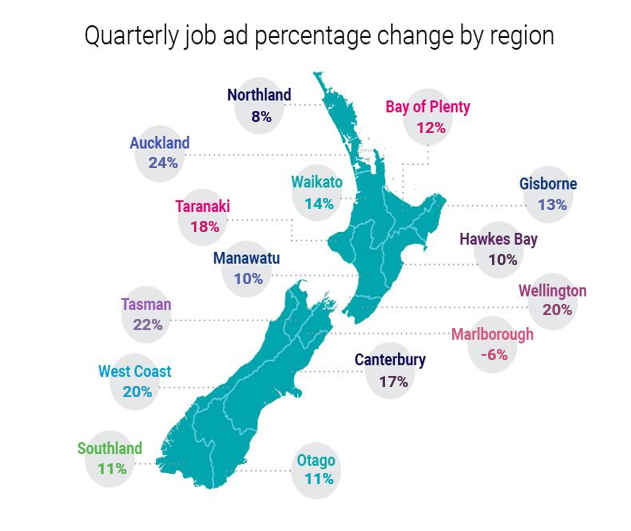 Trade Me Jobs were feeling even more enthused, with their data showing job ads nationally down just 1% compared to the same period in 2019, with Sales Director Matt Tolich commenting;
"This is a phenomenal outcome given the year that was, blowing even the most optimistic economic predictions out of the water. Looking at December alone, job listings nationwide were up 8 per cent on the year prior which is some pretty incredible growth."
NZ Regions Leading The Way
Matt from Trade Me went on to highlight how a surge in employment opportunities in New Zealand's regional areas, rather than our metro centres, is a large reason for the overall recovery with some regions seeing double-digit growth.
Mirroring our own JOYN data above, SEEK explained how metro areas, particularly Auckland, were hit harder overall and are taking longer to get back on their feet;
"Across metro areas, roles in Professional Services and Consumer Services continue to have the furthest to recover, showing a decline of 14% and 24% year-on-year respectively. When we experience a difficult economic outlook, businesses tend to hold off in recruiting these sorts of roles and less international tourism has had a significant impact."
Hiring Tech Staff More Competitive Than Ever
It should come as little surprise in a year where nearly everything moved online, and access to overseas talent dried up with the borders closed, the competition to sign up new tech talent increased markedly.
At JOYN we recruit for a wide range of clients in the Tech sector, from start-ups looking for early hires to Enterprises looking for business transformation talent to move towards Agile methodologies. Towards the end of 2020 we caught up with clients in the SaaS sector and also in the FinTech sector, both explaining the challenges around hiring top talent and enabling growth.
On SEEK, job ads in Information & Communication Technology saw the largest increase in Q4 2020 at 23% (closely followed by Manufacturing, Transport & Logistics job ads at 21%).
Over on Trade Me, all five of their top-paying jobs for the Quarter were in IT: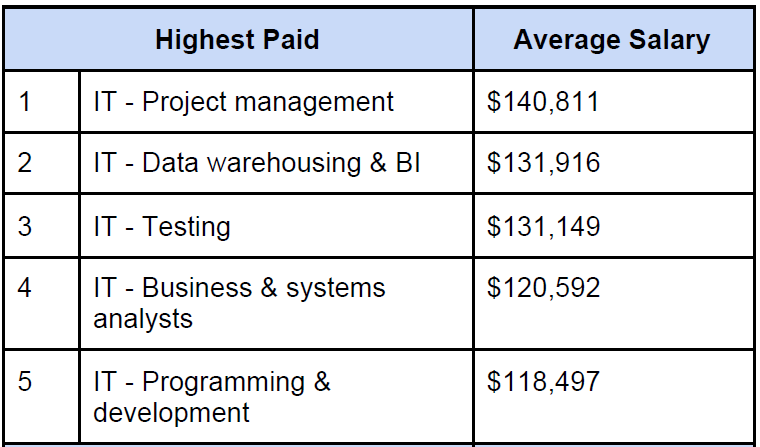 2021 Kicking Off With A Bang
Early indicators from our own JOYN data and commentary with others in the market are that 2021 is up and running with something of a hiss and roar.
If you're planning on growth in the months ahead, working out your recruitment strategy to meet those plans, and struggling for time or access to those hard-to-fill positions, we at JOYN are here to help. It's not just about fitting the job description; it's about finding people that fit the employer's brand and enhance the company culture. That's what we do best.
Prepare for the recruitment upswing with JOYN
Looking for the best way to recruit employees? Our JOYN Consultants are experts in the recruitment process and work as part of your team, armed with the most cutting-edge recruitment and HR tools available. Contact us today and let's see how we might be able to help your company to achieve better hires at less than half the cost.