Well 2021 certainly started off with a hiss and a roar with many of JOYN's clients experiencing a resurgence in business demands that threw them back into growth mode. But with closed borders and cautious candidate behaviour, finding good new talent through traditional staff recruitment has proved trickier than ever.
I'm writing this from another mini (we hope) Auckland lockdown which has offered us another chance to pause and reflect, however momentarily.
Last year we overhauled the JOYN client-side dashboard to give our clients even more control, visibility and data to help make better hiring decisions. Having seen it used by our clients for the past 6 months I thought now a good time to reflect on some of the new and evolving features that JOYN clients have used to their advantage so far, that you could also be using to your advantage right now.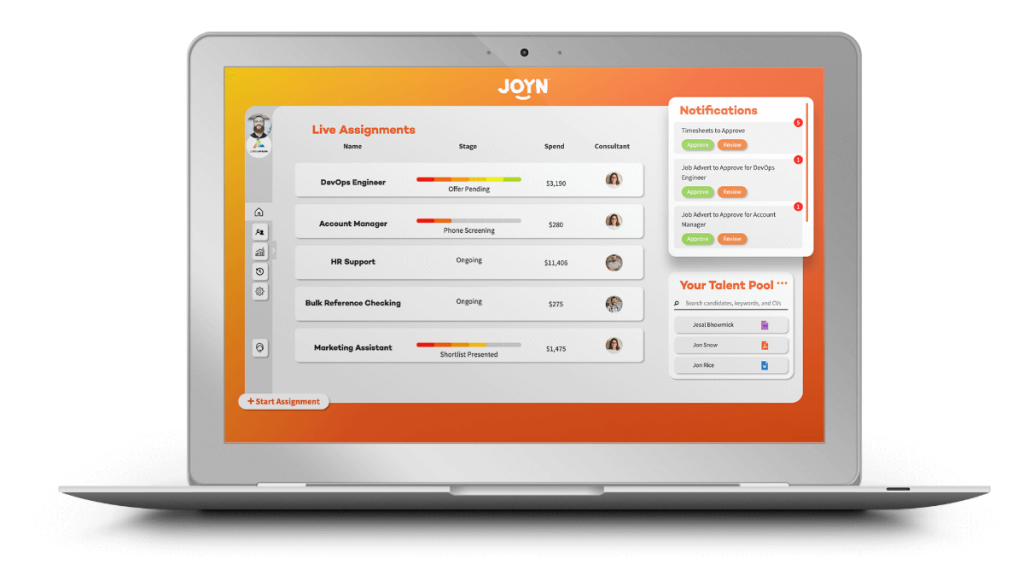 Candidate Search Button
At the top of your dashboard home screen is a candidate search button. This opens a list of every candidate currently sitting on your Live Assignments, including ones already rejected by your Consultant. Use this to:
Quickly search for a candidate name that your Consultant has phoned or emailed you about
Conduct your own search for candidates with certain keywords contained in their CV
Start Assignment Button
In the bottom-left corner of your dashboard is the Start Assignment button. Cut through the backwards and forwards of emails and phone calls and get a new JOYN Assignment set up in super-quick time:
Select whether the work you need doing is Recruitment or HR-related
Include anything specific to your organisation such as PO numbers or Job ID codes
Select the JOYN Consultant you would like to do the work, from any with which you have previously engaged
Set yourself, or someone else, as the timesheet approver
Coming soon: You will soon also be able to upload files such as job descriptions or org charts to Start Assignment requests.
Talent Pool
Recently, our talent pool was used to significant effect by a JOYN client who had an open position. The brief had changed slightly, but the client could directly revisit previously rejected candidates who were now more suitable and set up three interviews for themselves.
If your JOYN Recruitment Consultant finds some excellent talent for your role that you know would be a good fit for the organisation but not quite right for the specific position, make sure they invite that candidate into your Talent Pool. This way, you can keep in touch with silver-medallist candidates even after Assignments have been completed and closed and make sure they are available to re-connect with around future opportunities.
More info on JOYN Talent Pools can be found here.
Recruitment Data and Analytics
Click the Analytics button on your left-hand navigation bar to see how your company is faring with JOYN engagement to date. Use this to manage and monitor spend as well as discover important hiring metrics such as Cost Per Hire.

In the example above you can see the monthly spend on recruitment, with the black bars indicating when successful hires have been made and what your average cost per hire is at that point.
The slider above the graph can be moved to see expanded views and different time periods.
Coming soon: You might have noticed the introduction of Assignment Start Date columns on your homescreen. This will soon enable us to start displaying Average Time to Hire metrics along with the existing Cost per Hire data.
Collaboration
Did you know that you can see your JOYN Consultant's notes on your candidates, and add you own? This is a great way to speed up communication, avoid confusion, and keep everything around the hiring process in the same place.
Click on the candidate either from the Candidate Search button or from the funnel in the detailed Assignment view (which you reach by clicking the Assignment on your homescreen) and there you will find:
Candidate contact info
Files such as CV or cover note
Notes on the right-hand side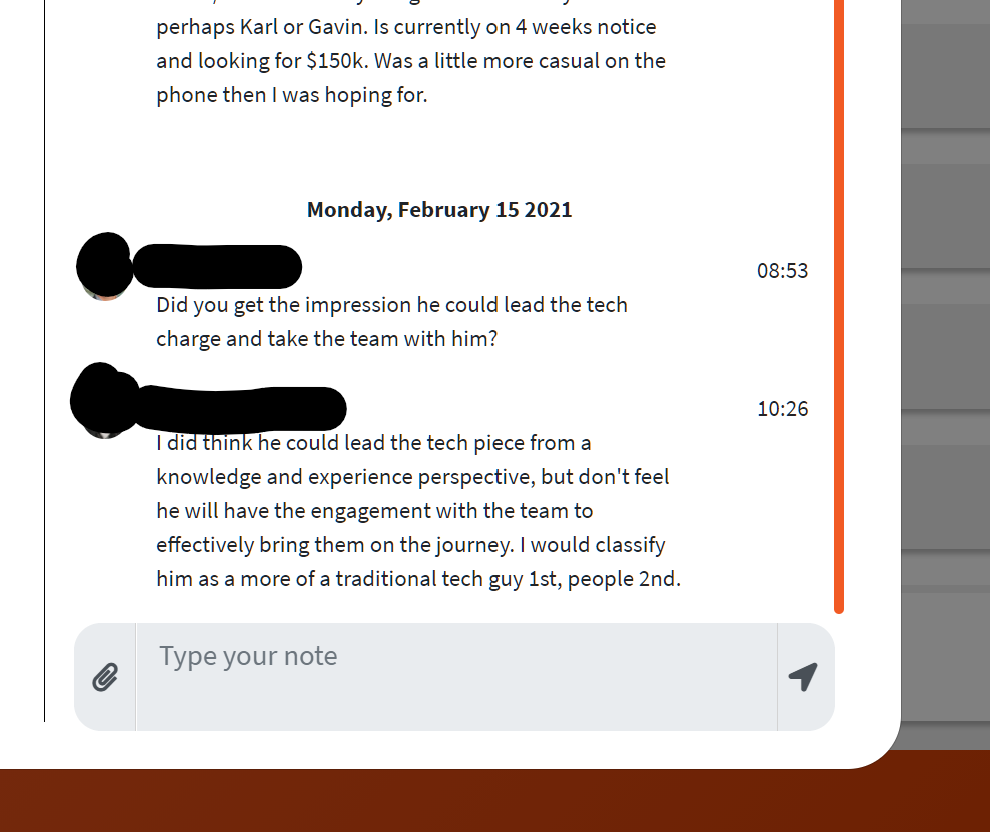 How JOYN Delivers Better Hires at Half The Cost
Despite all of these features we understand that it is the actual recruiter you partner with that brings the real magic to the JOYN model. We have developed the technology side to augment our Consultants, arm them with cutting-edge tools to recruit better for you, and remove the smoke and mirrors from traditional recruitment practices.
That's why we say that JOYN combines human expertise with tech smarts to deliver better hires at half the cost.
If you're new to JOYN and considering changing how your company approaches recruitment, you can grab an HR Health Check with us or find out more about how JOYN works here.