Last year JOYN added an integration with the video-screening software myInterview to our suite of sourcing tools available to our JOYN Recruitment Consultants. At the time we felt a little behind the curve, with NZ's original Level 4 Lockdown behind us, but it turned out to be a useful tool as further Lockdowns ensued.
Most recruiters have access to Zoom, Teams, perhaps Google Hangouts. Hirers can also make use of Skype or FaceTime if they're really desperate. But as Auckland approaches Level 3 restrictions, and the rest of New Zealand continues in a restricted and tentative Level 2, the opportunities to interview and meet candidates in the flesh remains incredibly problematic.
We found that using dedicated software for video screening not only made the earlier stages of the recruitment process far more efficient, but also enabled our Consultants to lay eyeballs on way more candidates, and actually proved to be a real ice-breaker when our clients eventually got to interview the shortlist, whether in person or, these days, also online!
How Video Screening Software Works
We chose myInterview mainly for ease of integration and customisation, but most video screening processes follow the same format:
The recruiter loads up behavioural screening questions (usually 3 – 5 but maybe more) along the lines of "Tell me about your…" and "Describe a time when…." and "Why do you want to work for…" etc.
The recruiter chooses the interview structure, such as whether they will allow the applicant time to read the question before answering, how much time they will allow for the response, or how many re-takes they will allow the applicant to record (if any).
The platform generates a link to be emailed out to all selected candidates, which might be every applicant, just the longlist, or even just one-off specific applicants, depending on the role and what is required.
Candidates click the link which opens up the video interview platform, they follow the instructions and then are ready to go, reading the questions and answering them, while their phone camera or laptop webcam records them doing so.
Once all questions are answered then the candidate submits their recording for screening by the relevant recruiter and hiring manager.
Benefits for JOYN Clients
Our integration with myInterview has been incredibly successful and comes at zero extra cost to clients of JOYN that use it. In fact due to our pay-as-you-go pricing model, we found that the efficiencies gained reduced the average time each recruitment assignment took to complete, resulting in an average saving of over $1k per Assignment for each JOYN client that had their JOYN Consultant also using myInterview.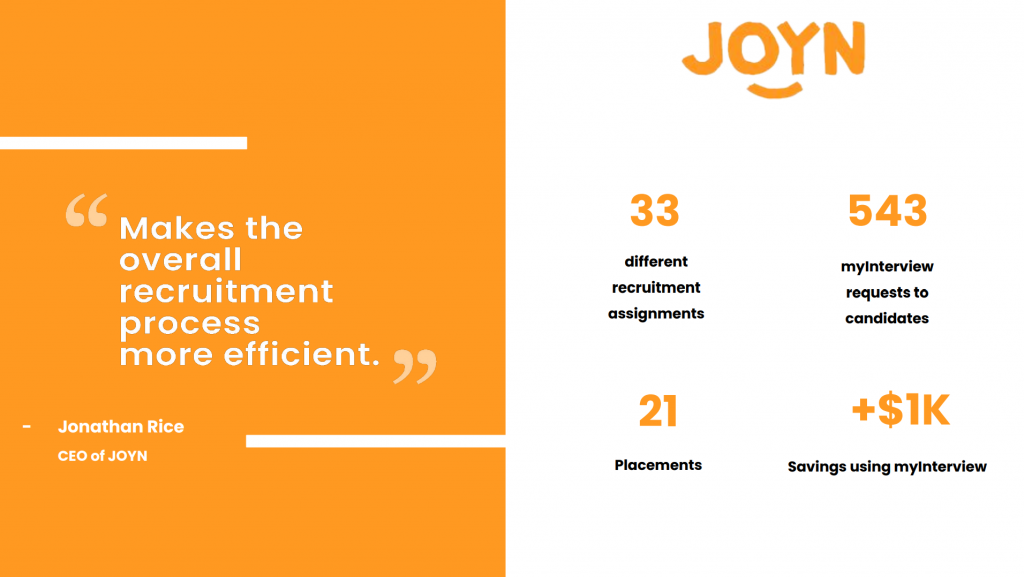 Clients also get to see every completed video screen embedded on the candidate page on their personal JOYN dashboards too, so for those wanting to get more closely involved in the recruiting process, and have closer collaboration with their JOYN Consultant, it is all there to see.
How to use Video Screening via JOYN
If you'd like to experience the visual benefits and cost-saving efficiencies of video screening then simply let your JOYN Consultant know! They have all the tools they need to set this up for any JOYN recruitment client.
Otherwise contact us at JOYN and we can tell you more and introduce you to a JOYN Consultant that can help.
For further information on JOYN and myInterview you can download their recently completed Case Study right here: