When we were all thrust into Lockdown 1.0 back in March, much of our work at JOYN came to a grinding halt. At the time, staff recruitment wasn't much of a priority! As it happened, it was an ideal time to win back some thinking time, which we applied to an overhaul of the client-side Dashboard at JOYN.
As many JOYN clients can now attest, the more user-friendly design and features like Talent Pools and Video Interviews, took the overall JOYN experience up a notch or two;
Angela Evans is fantastic, this is the best recruitment experience I have had in a long time, and your dashboard is fantastic too. Thanks for your support.

Mark Gibbs, Windsor Engineering
So when we in Auckland were plunged back into the second Lockdown in August, we took a deep breath and decided to take the opportunity to take on the bigger project of re-designing and overhauling the Consultant-side dashboard as well.
Today we finally went live with JOYN 2.0 and here is what it means for JOYN Clients (current and in future!):
Better Candidate Screening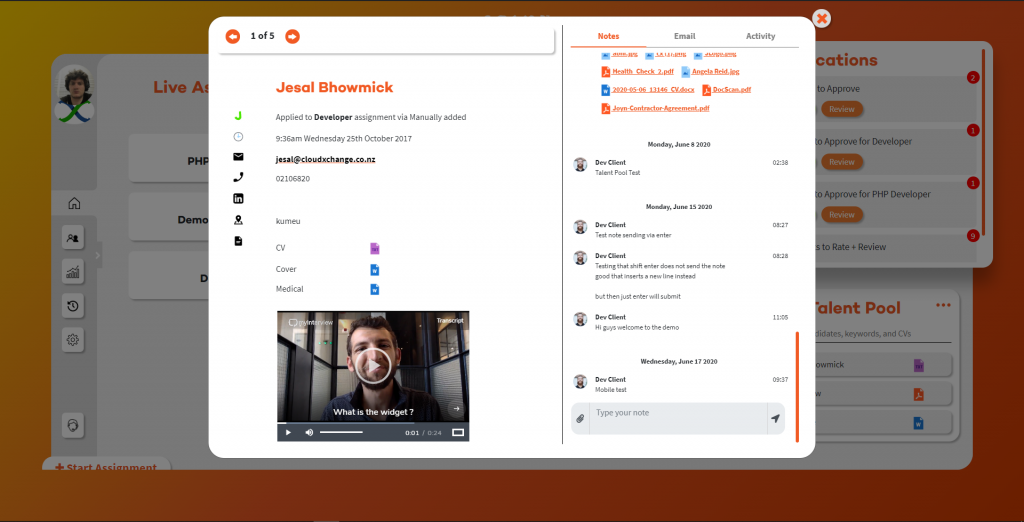 Rather than simply conducting interviews in the standard way, the recruitment process has been taken up a notch. JOYN Consultants now have access to our integration with video screening platform MyInterview, a cutting edge tool to deliver candidate video interviews directly to your phone or desktop. Free for JOYN Clients, this is a great tool that you should ask your Consultant about today.
Also linked into our partners at Talegent and CheckMate, your Consultant has quick and easy access to online psychometric and skills testing, or criminal and credit checks. This streamlines the selection process, filling open positions much faster (and with better employees).
Better Candidate Experience
How candidates are treated, communicated with, and even how they're rejected, all make up the overall "candidate experience" when applying for a job at your company.
With improved UX, smart templates, and some clever automations, JOYN Consultants can now more efficiently, effectively and humanely handle jobseekers engaging with you company. After all, these jobseekers could well be customers as well as candidates, and getting this right is essential for your company's positive employment brand out there in the wider market.
Stronger Partnering and Collaboration
The JOYN model is all about taking the recruitment partnering feeling to a whole new level, moving beyond the traditional agency approach of success fees and commission bonuses, that drive poor behaviour.
Now you have visibility for every candidate coming into the Consultant's Applicant Tracking System, plus the ability to swap notes on each candidate online. Whether you're an experienced HR professional, a hiring manager, or someone who's never done a hire before, our focus on collaboration makes the process smooth.
JOYN Consultants can also better tap into the wider JOYN Community for help with candidate sourcing or candidate referrals, by utilising the new Community page on their Dashboards. When you engage with one JOYN Consultant, you have the whole JOYN Community behind them too.
Talent Pooling Feature
JOYN Clients already have access to our Talent Pool feature, for the "silver-medallist" candidates who aren't right right now, but might be perfect for other opportunities in future.
It's now smoother and simpler for JOYN Consultants to invite candidates you want to keep in touch with into your Talent Pool. Now is the perfect time to build this up, with more candidates on the market, but talent shortages most assuredly just around the corner once more.
Cost Effectiveness
Last but by no means least, one of the key features of the JOYN model is the savings to be had compared to more traditional approaches to recruitment.
The new Consultant Dashboard brings process efficiencies and productivity up to a new level, with clever automations and bulk actions arming JOYN Consultants with the tools required to deliver ever greater cost savings and value to our Clients.
We only went live this morning and, after ironing out a few inevitable bugs throughout the day, are happy to be receiving positive feedback from our community of JOYN Consultants all around.
We hope all of our JOYN Clients enjoy the flow-on benefits of today's new technology release and their newly-augmented JOYN Consultants!
Take the hassle out of staff recruitment with JOYN
Reach out to find the perfect addition to your business. From experienced HR consultants to recruitment support, you'll find it all at JOYN. Talk to us about your hiring needs today!